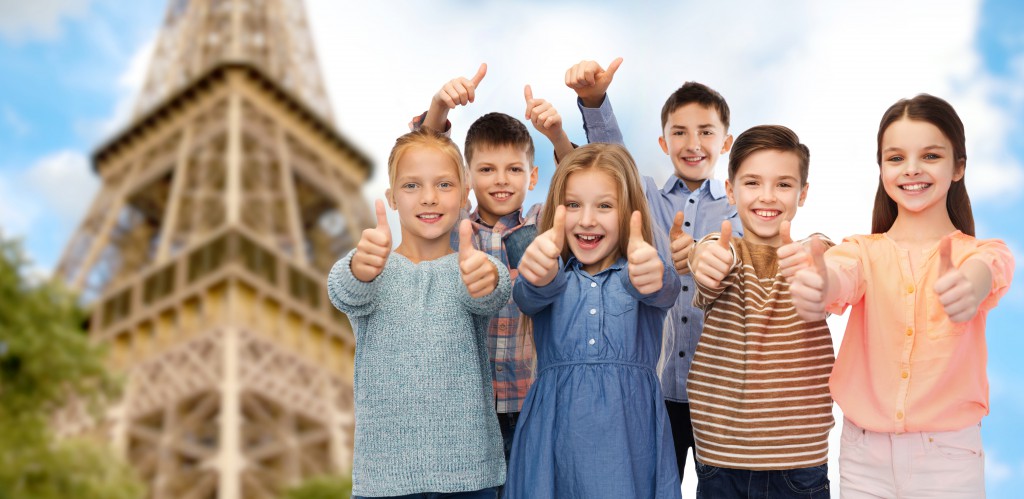 Youth
The Alliance Française provides group classes and workshops for bilingual and non bilingual children. Knowledgeable educators foster learning in a natural way, through visual, kinesthetic and auditory experiences.
For those who prefer to work one-on-one with a teacher, or whose schedule requires more flexibility we offer private classes that may be customized to fit your specific needs and goals. Please see the private classes page for more information.
FALL GROUP SESSION 2017
FIRST STEPS CLASSES at the AF
For children 7 to 10 years with no prior French experience needed.
These classes focus on the first steps towards introducing a new language. Through cooking, crafting, and playing games, basic vocabulary and sentences structure is introduced. While they mix ingredients, we talk about food and the seasons. While they use paper and glue for their puppets, we learn about the parts of the body. While they play a card game, they learn vocabulary for family.
Most ingredients are organic. Please be advised that we cannot guarantee a gluten or nut free environment.
Friday 3.30pm > 5.00pm  From 09/15/2017 to 12/15/2017 $375 per kid. All material included. With Agnès. For maximum 6 kids. No class Nov. 24th. 

COOKING UP FRENCH FROM SCRATCH at the AF
From 9 to 13 years old. Intermediate advanced French level required. 
In these classes you will learn some French while cooking traditional French recipes from all over France. We will begin baking with fall fruits for the delicious gateau moelleux aux pommes, tarte aux poires, langues de chats and the famous financiers. Learning French vocabulary while cooking is a fun way to improve confidence and French speaking ability.
Most ingredients are organic. Please be advised that we cannot guarantee a gluten or nut free environment.
Saturday 10.00am > 12.00pm From 09/16/2017 to 12/09/2017 $457 per child. All material included. With Agnès. For maximum 6 kids. No class Nov. 25th


COOKING UP FRENCH FROM SCRATCH at the AF
From 14 to 17 years old. For intermediate and advanced levels of French.
These classes focus on using French to cook traditional French regional specialties. We will begin baking with fall fruits for the delicious gateau moelleux aux pommes, tarte aux poires, langues de chats and the famous financiers. Can you say mixing, whipping, rolling, beating in French? You will learn while having fun and eating your yummy creations!
Most ingredients are organic. Please be advised that we cannot guarantee a gluten or nut free environment.
Saturday 2.00pm > 4.00pm From 09/16/2017 to 12/09/2017 $457 per teen. All material included. With Agnès. For maximum 6 kids. No class Nov. 25th
AFTERNOON CRAFTS AT HOME
From 5 to 10 years old. Organized French classes for kids IN YOUR HOME. All levels of French.
The instructor will bring all the materials and provide protective covering for the craft table. In these classes, your chosen small group of children will explore a variety of methods and mediums while they learn more about French culture and language. Kids can design and create their own projects out of paper, yarn, beads, fabrics, paints and much more all while discovering a region of France. Gather together 3 to 5 friends and we will start!
Fall Session will be held at your address to fit your schedule.
Group fare ($ 1,476) for maximum 5 kids. You may change the schedule in the afternoon.
Tuesdays, Wednesdays or Thursdays From 09/12/2017 to 12/14/2017 $1,476 per group maximum 5 kids. All material included. With Agnès. No class Nov.21, 22, 23, 24