School overview
Session Dates for the calendar year
Sessions for 2020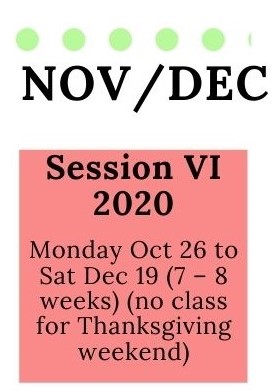 Sessions for 2021
We offer a friendly and stimulating environment to help you gain confidence in speaking French. All classes conducted in French with an emphasis on communication. You will learn grammar, vocabulary, comprehension, pronunciation and more, through active participation and conversation.
At the Alliance Française de Berkeley you not only learn French, you learn practical French.
All our teachers are:
Native or bilingual.
Certified to teach French as a Second Language.
We use the Alliance Française French-American Educational Standards (AF Frames) in order to:
Provide you with clear learning objectives.
Give your teacher a better understanding of your needs.
Help you to choose your level if you wish to get a diploma.
What Students Are Saying
"Conversation! Interaction! Grammar! Vocabulary! Culture!
In these days of solitude, it is all the more important to be in a class with a teacher such as Marion, Anne, Claudia who encourage me with their warmth and patience. Of course, I miss the mingling before and after class, but with live, on-line classes I can avoid both the commute and parking. In litt class we discuss their chosen book, the literary merits, how this reflects the French culture shown by the author, comparing and contrasting our own experiences." Susan

"Grammar class - A great way to exercise your brain! This is a very good class to learn grammar fundamentals and vocabulary at the same time. This particular class has a very motivated group of students and a very good and patient instructor." Vicki
---
---
New students with prior experience in French language learning are encouraged to take a free 30 minute evaluation in order to be placed in the appropriate class. Please call the office at 510 548 7481 to schedule your complimentary evaluation or take a placement test online.
The Alliance Française de Berkeley reserves the right to cancel courses, adjust curriculum or change teachers at any time during the session.
A minimum of four enrollments is required to open a class. If you are registered in a class that is cancelled, you will be notified by telephone or email and given the option to transfer to another course or to be fully refunded.
Partial refunds are issued only if requested before the second class meeting.
No refunds or credits thereafter.
Classes attended will be charged.
Credit may be issued on a case by case basis for withdrawal before the second class meeting and must be used within the next 2 class sessions.
Credit is not transferable.
A full refund is issued if a class is canceled prior to the start of the session.
The Alliance Française accepts payments in cash, by check, visa or master card. A $5 transaction fee is charged for all declined credit card transactions, and $25 for bounced checks

Payments must be made in full at enrollment. Please contact us if you would like arrange payment by installment.
A $50 fee will be charged for all cancellations.
Please call before coming to get an appointment:
510 548 7481

Monday, Wednesday, Thursday & Friday:
9:30am – 12:30pm
Tuesday:
9:30am – 7:00pm